8 Benefits of Rosehip Oil for the Skin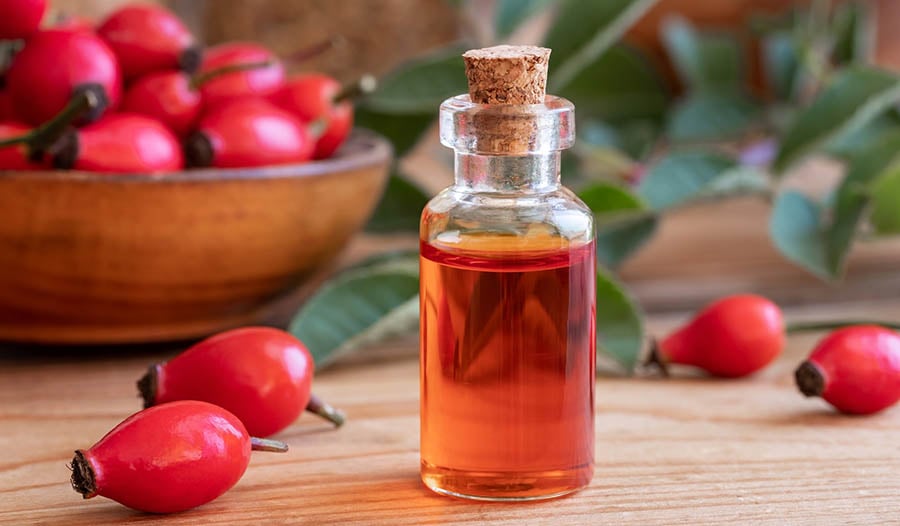 Prized by ancient Egyptians, Mayans and Native Americans for its therapeutic properties, rosehip oil offers a natural way to fight wrinkles, slow aging and have healthy skin. Clinical studies show that it also has antibacterial, antiviral and antifungal qualities.
What Is Rosehip Oil?
Rosehip oil is a type of pressed seed oil that is extracted from wild rose bushes found in the Andes. It is known for containing beta-carotene as well as linoleic and oleic acids. Rosehip oil offers many skincare benefits that include the following:
1. Rosehip Oil: Fights Visible Signs of Aging
Rosehip oil has captured the attention of generations of women searching for the proverbial fountain of youth. Scientific studies now show it has a high level of vitamin C, a nutrient that reduces wrinkles and helps repair ultraviolet damage from the sun. It also penetrates deeply into the skin without leaving an oily residue.
2. Rosehip Oil: Hydrates the Face
Rosehip oil moisturizes dry skin on the face and body. Researchers believe that this benefit may come from a fatty acid called linoleic acid. Linoleic acid is a building block for ceramides, a compound that occurs naturally in cell membranes to moisturize the skin. Rosehip oil also contains vitamin A-like carotenoids that cause cells to reproduce more quickly.
3. Rosehip Oil: Brightens Skin
As mentioned above, rosehip oil is rich in vitamin C, which has the potential to brighten the skin and reduce dark spots. In addition, retinoids in vitamin C help cells mature and turn over more quickly, leading to fresher skin. This helps with hyperpigmentation caused by hormonal changes, sun damage and medications such as birth control pills.
4. Rosehip Oil: Helps With Scars
In a 2015 study, participants treated post-surgical scars two times a day with rosehip oil. After three months, the ones using rosehip oil experienced improvement in inflammation and scarring when compared to those who didn't use the oil.
5. Rosehip Oil: An Anti-Bacterial
A 2017 study published by the National Institutes of Health found that rosehip oil has antibacterial, antifungal and antiviral qualities. It can be applied topically to fight inflammation caused by skin irritations like eczema.
6. Rosehip Oil: Fights Acne
Rosehip oil contains relatively high levels of linoleic acid and low levels of oleic acid. Research shows that the lipids on the skin surface of people prone to acne are mostly made up of oleic acid and are low in linoleic acid. Rosehip oil also contains traces of tretinoin, a retinoid used to treat acne.
7. Rosehip Oil: May Boost Collagen Production
The body's ability to produce collagen, the building block that makes skin firm and elastic, grows less efficient with age. Rosehip oil is rich in vitamins A and C, nutrients needed to produce collagen. It also inhibits the release of enzymes that break down collagen in the body.
8. Rosehip Oil: May Protect Against Sun Damage
Exposure to ultraviolet rays from the sun causes wrinkles and premature aging, and it lowers the body's ability to make collagen. Antioxidants in rosehip oil, such as vitamins A, C and E, help prevent UV damage. Although it makes the skin look younger, it does not take the place of sunscreen.