The Potential Immune System Benefits of Black Seed Oil
DISCLAIMER
This blog does not intend to provide diagnosis... Read More

This blog does not intend to provide diagnosis, treatment, or medical advice. Read more. The content provided on this blog is for informational purposes only. Please consult with a physician or other healthcare professional regarding any medical or health-related diagnosis or treatment options. Information on this blog should not be considered as a substitute for advice from a healthcare professional. The claims made about specific products throughout this blog are not approved to diagnose, treat, cure, or prevent disease.
In this article: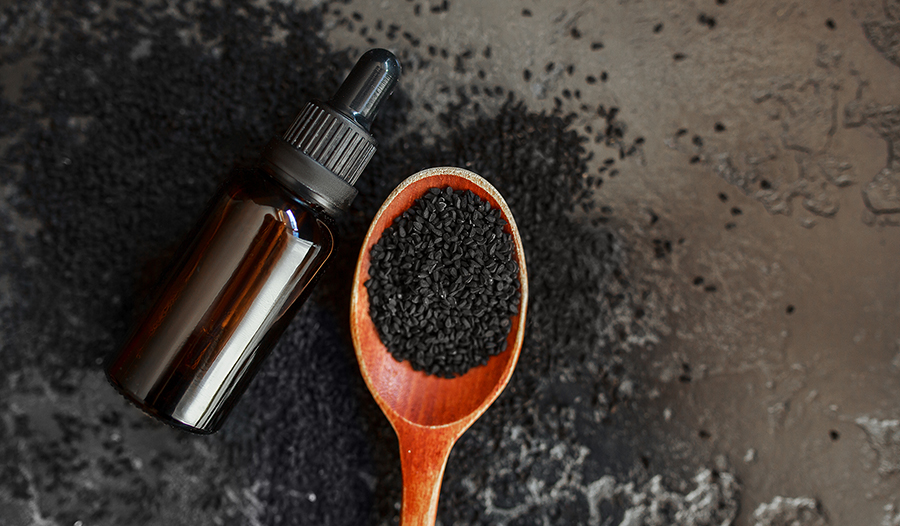 For thousands of years, black seed has been a revered herb in the Middle East. References to the plant appear in both the Bible and the Koran, with seeds being found in Tutankhamun's tomb in Egypt. While sometimes referred to as black cumin or black caraway, black seed (Nigella sativa) is not related to either common kitchen spice but has a long history in traditional medicine.
Interestingly, black seed has been used for a broad range of complaints, including respiratory, digestive, immune, heart, kidney, and liver conditions. In addition, it was often recommended as a general health tonic for improving overall well-being. More recently, modern research has suggested potential benefits that support historical use.
‌‌‌‌Can Black Seed Oil Benefit the Immune System?
As an herb, black seed has a broad array of positive effects on the human body and immune system. Black seed appears to have a number of direct and indirect effects, including:
Simulating and balancing immune function

Calming swelling and discomfort through antioxidant and anti-inflammatory activity

Directly causing antimicrobial effects against viruses, bacteria, fungi, and parasites
The function of the immune system is complicated. There are numerous parts, from white blood cells that gobble up invaders to antibodies that target them for destruction.
Natural killer (NK) cells are a part of the body's immune response that can attack irregular and infected cells directly. Human studies have suggested benefits with black seed significantly increasing NK cell activity. In addition, numerous in vitro (petri dish) and animal studies have shown both stimulating and balancing effects on antibody responses and white blood cell activity.
‌‌‌‌Anti-Inflammatory Benefits of Black Seed Oil
Black seed is rich in antioxidants and anti-inflammatory compounds. These compounds appear to have potential clinical significance. Antioxidant components in black seed have been considered as potential support for balanced blood pressure levels. The antioxidants in black seed also appear to play a role in protecting the stomach and gastrointestinal system.
Inflammation is a part of almost all chronic health conditions. In human trials, black seed has demonstrated possible benefits in a number of inflammatory conditions including allergies, asthma, and joint discomfort. The benefits appear at least partly due to its anti-inflammatory activity.
Black seed oil in patients with hay fever has shown significant improvements in symptoms within two weeks. The authors of the study concluded that black seed could be a viable treatment option. In asthma, a recent meta-analysis of all published research concluded that black seed appears to decrease symptoms, likely through anti-inflammatory activity. In osteoarthritis, two separate studies on topical applications have shown that black seed oil can decrease knee discomfort from overuse. Research in human cartilage cells showed significant beneficial activity. A recent review of the research for treating rheumatoid arthritis showed clinical improvement in all five published studies with the use of black seed.
‌‌‌‌Antimicrobial Activity of Black Seed Oil
Of further interest, black seed shows direct antimicrobial effects that have been documented against viruses, bacteria, fungi, and parasites.
Viruses
In a human trial treating hepatitis C, black seed more than halved the viral load and improved clinical outcomes. And while further research is clearly necessary, a case study on the use of black seed for human immunodeficiency virus (HIV) showed complete elimination of detectable virus from the blood of a patient that remained stable for years after discontinuation of the treatment.
Bacteria
Helicobacter pylori are the bacterium that causes most stomach ulcers. Unfortunately, it's notoriously difficult to treat. Standard approaches using three or four medications combined are only 80% effective. A human trial using black seed and omeprazole (a stomach acid blocker) showed comparable treatment results to standard triple therapy, clearing the infection in 67% of patients. A study using black seed and honey also showed reasonable efficacy with 57% of patients eliminating the bacterium.
Fungi
While clinical trial evidence is lacking, numerous studies show activity that balances yeast in the body as well as other fungi that commonly cause skin infections. With the current data, further studies are needed to see if black seed has benefits for treating topical fungal conditions directly.
Parasites
For parasites, evidence suggests black seed shows activity against blood flukes, a genus of trematodes. In separate research on mice, black seed outperformed standard antiparasitic medication for plasmodium parasites. More research is necessary to fully understand the potential of black seed in human conditions, but available evidence suggests some promise for certain types of parasitic infection.
‌‌‌‌Black Seed Formulations
Black seed has been used in a number of different forms, all of which have shown potential benefits. The herb is considered "generally recognized as safe" for culinary use by the FDA (The United States Food and Drug Administration) along with being available in supplemental forms. Whole ground seed and extracts have been used in some studies, although black seed oil is probably the most common form, used topically or taken by mouth. Each formulation will likely have somewhat different treatment effects since they contain different levels of the herb's active ingredients. More research is necessary to understand how best to utilize each form for specific conditions.
‌‌‌‌Key Points
Black seed

, as an herb, has been in use medicinally for thousands of years.

Modern research suggests that black seed may have clinical uses for its immune system benefits.

Research has shown improvements in allergic conditions and asthma, swelling in the joints, and some types of infection.
While more evidence is needed, the research on black seed shows promise, even for some conditions that can be difficult to treat.
References:
Sommer AP, Försterling HD, Sommer KE. Tutankhamun's antimalarial drug for Covid-19 [published online ahead of print, 2020 Oct 30]. Drug Res (Stuttg). 2020;10.1055/a-1274-1264. doi:10.1055/a-1274-1264

Ahmad A, Husain A, Mujeeb M, et al. A review on therapeutic potential of Nigella sativa: A miracle herb. Asian Pac J Trop Biomed. 2013;3(5):337-352. doi:10.1016/S2221-1691(13)60075-1

Kooti W, Hasanzadeh-Noohi Z, Sharafi-Ahvazi N, Asadi-Samani M, Ashtary-Larky D. Phytochemistry, pharmacology, and therapeutic uses of black seed (Nigella sativa). Chin J Nat Med. 2016;14(10):732-745. doi:10.1016/S1875-5364(16)30088-7

Abuharfeil NM, Salim M, Von Kleist S. Augmentation of natural killer cell activity in vivo against tumour cells by some wild plants from Jordan. Phytother Res. 2001;15(2):109-113. doi:10.1002/ptr.692

Majdalawieh AF, Fayyad MW. Immunomodulatory and anti-inflammatory action of Nigella sativa and thymoquinone: A comprehensive review. Int Immunopharmacol. 2015;28(1):295-304. doi:10.1016/j.intimp.2015.06.023

Leong XF, Rais Mustafa M, Jaarin K. Nigella sativa and its protective role in oxidative stress and hypertension [published correction appears in Evid Based Complement Alternat Med. 2013;2013:253479]. Evid Based Complement Alternat Med. 2013;2013:120732. doi:10.1155/2013/120732

Magdy MA, Hanan el-A, Nabila el-M. Thymoquinone: Novel gastroprotective mechanisms. Eur J Pharmacol. 2012;697(1-3):126-131. doi:10.1016/j.ejphar.2012.09.042

Nikakhlagh S, Rahim F, Aryani FH, Syahpoush A, Brougerdnya MG, Saki N. Herbal treatment of allergic rhinitis: the use of Nigella sativa. Am J Otolaryngol. 2011;32(5):402-407. doi:10.1016/j.amjoto.2010.07.019

He T, Xu X. The influence of Nigella sativa for asthma control: A meta-analysis. Am J Emerg Med. 2020;38(3):589-593. doi:10.1016/j.ajem.2019.11.036

Tuna HI, Babadag B, Ozkaraman A, Balci Alparslan G. Investigation of the effect of black cumin oil on pain in osteoarthritis geriatric individuals. Complement Ther Clin Pract. 2018;31:290-294. doi:10.1016/j.ctcp.2018.03.013

Kooshki A, Forouzan R, Rakhshani MH, Mohammadi M. Effect of topical application of nigella sativa oil and oral acetaminophen on pain in elderly with knee osteoarthritis: A crossover clinical trial. Electron Physician. 2016;8(11):3193-3197. Published 2016 Nov 25. doi:10.19082/3193

Wang D, Qiao J, Zhao X, Chen T, Guan D. Thymoquinone inhibits IL-1β-induced inflammation in human osteoarthritis chondrocytes by suppressing NF-κB and MAPKs signaling pathway. Inflammation. 2015;38(6):2235-2241. doi:10.1007/s10753-015-0206-1

Khabbazi A, Javadivala Z, Seyedsadjadi N, Malek Mahdavi A. A systematic review of the potential effects of Nigella sativa on rheumatoid arthritis. Planta Med. 2020;86(7):457-469. doi:10.1055/a-1143-8521

Barakat EM, El Wakeel LM, Hagag RS. Effects of Nigella sativa on outcome of hepatitis C in Egypt. World J Gastroenterol. 2013;19(16):2529-2536. doi:10.3748/wjg.v19.i16.2529

Onifade AA, Jewell AP, Adedeji WA. Nigella sativa concoction induced sustained seroreversion in HIV patient. Afr J Tradit Complement Altern Med. 2013;10(5):332-335. Published 2013 Aug 12.

Gisbert JP, Calvet X. Review article: the effectiveness of standard triple therapy for Helicobacter pylori has not changed over the last decade, but it is not good enough. Aliment Pharmacol Ther. 2011;34(11-12):1255-1268. doi:10.1111/j.1365-2036.2011.04887.x

Salem EM, Yar T, Bamosa AO, et al. Comparative study of Nigella sativa and triple therapy in eradication of Helicobacter Pylori in patients with non-ulcer dyspepsia. Saudi J Gastroenterol. 2010;16(3):207-214. doi:10.4103/1319-3767.65201

Hashem-Dabaghian F, Agah S, Taghavi-Shirazi M, Ghobadi A. Combination of Nigella sativa and honey in eradication of gastric Helicobacter pylori infection. Iran Red Crescent Med J. 2016;18(11):e23771. Published 2016 Jun 21. doi:10.5812/ircmj.23771

Shokri H. A review on the inhibitory potential of Nigella sativa against pathogenic and toxigenic fungi. Avicenna J Phytomed. 2016;6(1):21-33.

Yimer EM, Tuem KB, Karim A, Ur-Rehman N, Anwar F. Nigella sativa L. (Black Cumin): A promising natural remedy for wide range of illnesses. Evid Based Complement Alternat Med. 2019;2019:1528635. Published 2019 May 12. doi:10.1155/2019/1528635

Okeola VO, Adaramoye OA, Nneji CM, Falade CO, Farombi EO, Ademowo OG. Antimalarial and antioxidant activities of methanolic extract of Nigella sativa seeds (black cumin) in mice infected with Plasmodium yoelli nigeriensis. Parasitol Res. 2011;108(6):1507-1512. doi:10.1007/s00436-010-2204-4

Koshak DAE, Koshak PEA. Nigella sativa L as a potential phytotherapy for coronavirus disease 2019: A mini review of in silico studies. Curr Ther Res Clin Exp. 2020;93:100602. doi:10.1016/j.curtheres.2020.100602

Koshak AE, Koshak EA, Mobeireek AF, et al. Nigella sativa supplementation to treat symptomatic mild COVID-19: A structured summary of a protocol for a randomised, controlled, clinical trial. Trials. 2020;21(1):703. Published 2020 Aug 8. doi:10.1186/s13063-020-04647-x